Swoosh! This instantly recognizable symbol isn't just a logo, it's a global statement of style, quality, and performance. When you see this iconic emblem, one brand inevitably springs to mind: Nike. As one of the leading sports footwear manufacturers in the world, Nike consistently pushes the boundaries of innovation, design, and materials, staying one step ahead in the fiercely competitive world of athletic wear. The enduring appeal of their sneakers lies not just in their design or performance, but in the unique choice of materials that set them apart.
One of the intriguing aspects of Nike's material innovation lies in the varieties of leather they use. Leather, a timeless classic and a standard bearer for durability and comfort, forms the backbone of many a sneaker silhouette. But, as with everything else, Nike brings its own twist to this traditional material. From classic full-grain to innovative Flyleather, Nike's selection is as diverse as it is fascinating.
In this blog post, we delve into the diverse world of Nike's leathers, exploring the different types they use, how they source it, and the impact on the overall quality, sustainability, and aesthetics of their shoes. So, strap on your favourite pair of Nikes, and join us as we venture into the heart and sole of Nike's leather selection.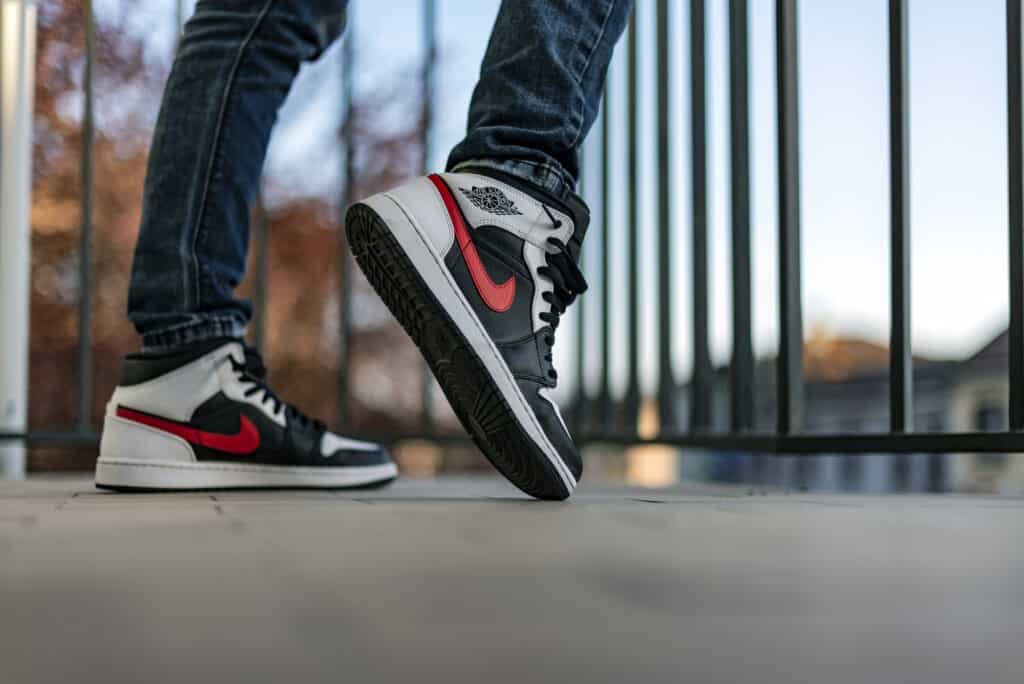 Types of Leathers Nike Uses
Faux Leather
Nike, true to its reputation for innovation, hasn't shied away from the use of synthetic or faux leather in the production of its shoes. Not only does this present an alternative to traditional leather, but it also fits within the brand's dedication to sustainability and evolving consumer demands.
One standout innovation is Nike's Flyleather, an engineered material that looks and feels like traditional leather but is made from at least 50% recycled natural leather fiber. It was first introduced with the Tennis Classic sneaker in 2017, and since then, Flyleather has been integrated into multiple Nike models.
A prime example of Nike's use of faux leather is seen in the "Nike Air Force 1 Flyleather". The Flyleather version of this classic shoe maintains its style and quality while considerably reducing its environmental impact. The material's lower carbon footprint and water usage highlight Nike's push for greater sustainability without compromising on style or performance.
Another popular model featuring this innovation is the "Nike Cortez Flyleather". Known for its classic running shoe silhouette, the Cortez has been a staple of Nike's collection since the 1970s. With the introduction of the Flyleather version, the Cortez continues to appeal to eco-conscious consumers who appreciate the blend of tradition and modern technology.
In the realm of soccer, the "Nike Tiempo Legend 8 Elite FG Flyleather" also leverages the faux leather technology. This cleat demonstrates the versatility of Flyleather, offering durability, water resistance, and a comfortable fit, all essential features for athletes on the soccer field.
By using faux leather, particularly Flyleather, Nike demonstrates its commitment to innovative and sustainable materials without compromising on the quality and performance that their customers have come to expect. Whether in the realm of streetwear or professional athletics, Nike continues to redefine how shoes are made, wearing the banner of sustainability alongside style and performance.
Kangaroo
Nike, in its quest to offer premium quality and performance, has occasionally employed kangaroo leather, known for its strength, flexibility, and breathability, in the manufacturing of some of its shoes. However, as part of Nike's commitment to sustainability and animal welfare, they've moved away from using this material in recent years. But, before that decision, some of Nike's footwear did feature this unique leather, particularly within their soccer cleats line-up.
One of the most iconic soccer cleats that incorporated kangaroo leather was the "Nike Tiempo Legend" series. Earlier models of this series featured kangaroo leather prominently, known for offering a soft, supple feel that molded to the wearer's foot, providing a close, comfortable fit that improved ball control. The Tiempo Legend series has been worn by soccer legends such as Ronaldinho and Andrea Pirlo, underlining the professional level of performance these shoes delivered.
Another model to highlight is the "Nike Premier", a soccer boot known for its minimalist, classic design. Earlier versions of the Premier utilized kangaroo leather for the majority of the upper, combining with goat leather on the heel for a supremely soft, comfortable fit.
It's important to note, however, Nike has pledged to stop using kangaroo leather in their products, aligning with their increased focus on sustainability and ethical sourcing. Instead, they have started to focus more on synthetic materials and sustainable leather alternatives like Flyleather, which offer similar performance characteristics while aligning with the company's commitment to environmental stewardship.
Pigskin Leather
Pigskin leather is a versatile, durable material often used in the manufacture of various leather products, including shoes. Its texture is naturally rough, providing a unique look and feel to the finished product. It is also one of the most breathable types of leather, allowing for superior ventilation in shoes, which makes it an excellent choice for athletic footwear.
Nike has been known to use pigskin leather, in particular, suede pigskin leather, in some of their shoes. The suede finish not only adds a fashionable touch to the shoe but also improves durability and breathability.
One noteworthy example is the "Nike Dunk Low SP" which featured a blend of premium pigskin suede and other types of leather in its construction, contributing to its distinct aesthetic appeal and texture.
The "Nike Air Max 90" has also seen iterations that used pigskin suede leather. These versions maintain the signature silhouette of the Air Max 90 while introducing a new element of luxury and style with the use of pigskin suede.
Another great example is the "Nike SB Stefan Janoski Max". This line of skateboarding shoes has had models that incorporated pigskin suede into their design. The material's durability and natural breathability make it ideal for the rigorous demands of skateboarding while providing a unique, textured aesthetic.
Cowhide Leather
Cowhide leather has been an integral part of Nike's footwear story since the beginning. Renowned for its durability, breathability, and adaptability to various finishes, cowhide leather adds an element of premium quality and a distinct aesthetic to Nike shoes. Here's how Nike uses this type of leather and some examples of shoe models where it is prominently featured.
One of the most iconic Nike shoes that utilized cowhide leather is the "Nike Air Force 1". The Air Force 1, known for its smooth and textured leather upper, originally uses high-quality cowhide leather. Its durability, feel, and capability to maintain shape over time made cowhide leather the ideal choice for a shoe designed for basketball's high-intensity movements.
Another noteworthy model is the "Nike Blazer Mid '77 Vintage", a basketball-turned-lifestyle sneaker. Its upper often features cowhide leather, highlighting a retro aesthetic while ensuring durability and a comfortable fit.
Similarly, the "Nike Air Max" series has seen numerous iterations using cowhide leather. Notably, the "Air Max 90" and "Air Max 1" often sport cowhide leather uppers in their various colorways and special editions. These designs offer a blend of style, comfort, and durability that has helped the Air Max series become an enduring part of sneaker culture.
Also, models in the "Nike Dunk" series often utilize cowhide leather in both their high and low-top versions. The leather's robustness, coupled with its flexibility, has made it a popular choice for these models, known for their multi-panel design and vibrant colour blocking.
Despite the widespread use of cowhide leather in its footwear, Nike is also committed to sustainable practices. This has led to the introduction of alternatives such as Flyleather, which contains at least 50% recycled natural leather fibers. It's part of Nike's effort to reduce their environmental footprint without sacrificing the quality, feel, and performance that their customers expect.