Leather gloves are well known worldwide for their practicability and fashion sense.

But are leather gloves going to keep your hands warm in different situations?
Is the leather part of the Glove going to keep your fingers toasty on those cold mornings?
Keeping in mind that there are different types of quality of leather out there will depend on how warm they feel.

However, we find that certain leather gloves are better than others on the market.
Here is everything you should know if you are looking to purchase a new pair of Leather Gloves, and the places you can wear them.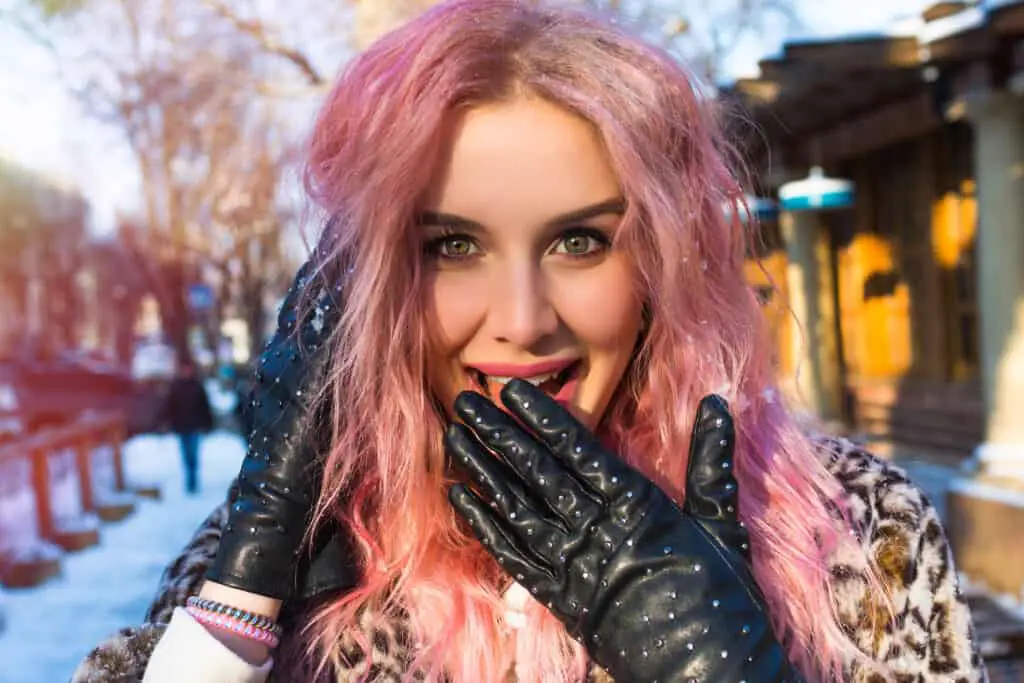 Are Leather Gloves Warmer Than Wool ?
If you are considering a pair of gloves both wool and leather have their own great benefits.
If you are comparing a pair of woollen gloves to an unlined pair of leather gloves the woollen ones would stay warmer in this instance.
We have listed the pros and cons on both leather and woollen gloves below.
If you can find a pair of leather gloves with added benefit of sheepskin/cashmere lining this would be the warmest option ( having the best of both worlds being Leather and Wool together in one glove ).
Woollen Glove Pros :
Woollen fabric has a soft feel and is super comfortable over the skin. It has the benefit of trapping air within the wool which means it absorbs and releases moisture.
Merino wool is the top choice for woollen gloves and is incredibly soft to wear and is the best quality wool fabric.
Woollen Glove Cons :
Woollen fabric is not waterproof so if you are caught in any bad weather, you will not be protected from the rain.
If you also experience any allergies to wool, then a woollen glove may not be the best idea, as wool on the skin may become itchy when worn ( with some people ).
Unlined Leather Glove Pros :

Wearing unlined leather gloves are warm and will give you protection from the wind. If the leather has been sealed with beeswax it will protect also from the rain.
Unlined Leather Glove Cons :

Unlined Leather Gloves are not as warm as gloves that are lined. Leather is made from animal skins and by themselves are thinner in thickness than a woollen glove. Are still warm but not as warm as a woollen glove.
Lined Leather Glove Pros :

Lined leather gloves are much warmer than unlined leather gloves. The extra inside fabric can be either cashmere, wool or fleece.
Lined Leather Glove Cons :

If you have any allergic reactions to any wool, you may want to check the inside lining of a Leather Lining Glove and try cashmere or rabbit fur instead.
Are Leather Gloves Good For The Snow ?
When planning a trip to the snow you really need a warm and practical pair of gloves.

We recommend a leather glove that will protect you from the snow, rain and wind.
Leather gloves are the perfect choice for the snow for the warmth factor and the waterproofing, as other materials don't give this sort of protection
What Sort Of Leather Is Best For The Snow?
If you are out in the elements (snowfields) you really need to think about the type of leather you choose.
We recommend gloves with deerskin or pigskin leather as these types of leather doesn't stiffen if it gets wet.

These leathers have very good durability in the outdoors.
If you do purchase this type of leather glove it would be good to have a inner lining of cashmere to keep your hands warm in the snow.
Are Leather Snow Gloves Waterproof ?
Waterproofing leather is possible with either:
Beeswax polish or Leather Conditioner Oil
When you first receive a new pair of leather gloves it is best to condition the gloves with a polish and this will waterproof your leather ready to wear on any snow trip. Here is a good article on whether water will will ruin a pair of leather gloves.
Are Leather Gloves Good For Skiing?
It's extremely helpful to get the right type of gloves when you are skiing.

Gloves that are going to protect you from the elements while giving you good grip on your equipment whilst skiing is another important factor to consider when hunting for a new pair.
Leather Gloves are one of the most important accessories (apart from Snow Boots) to be able to keep your hands warm but also being useful for grip and handling of skiis and poles.

This being crucial for your interaction with the snow.
Can You Wear Your Normal Gloves Skiing?
Normal winter gloves that include wool, cashmere and fleece are not recommended for skiing.

This is due to the material not being waterproof. (The gloves will get wet straight away in the snow)
You will need to consider using only leather for skiing to keep your hands dry and protected during your day.
What Makes Good Ski Gloves?
Below are 5 Key points for you to remember before you buy a Ski Glove:
Being Wind & Waterproof :

Make sure you buy a good quality leather and use a beeswax conditioner to further waterproof the leather glove.
Leather Being Soft And Durable :

A deerskin or pigskin leather ski glove is best as it is resilient and will hold up against abrasion and water.
Thermal Fleece Inside :

Many snow gloves out there do not have thermal fleece inside, so without this feature it will be cold to wear without any thermal lining.
Insulated Material :

It is advisable that any leather gloves you research should have insulated material within the glove which traps air creating a thermal barrier keeping the warmth inside.
Shirred Elastic :

Tightens the material around your wrist protecting your skin from snow entering the glove.
What Gloves Should I Use For Skiing?
There are 1 main brand that we recommend for skiing:
Kinco :

5 star reviews and retail for $27.00. This brand is made from Pigskin leather, they also have trademarked heatkeep thermal lining inside the leather glove.
How Much Do Ski Gloves Cost ?
Ski gloves can range from $10.00 up to $200.00 depending on the brand available.
Prices vary a lot depending on features, please be aware that many on the market do not contain thermal lining, and you will absolutely freeze without this in the snow.
Are Leather Gloves Good For Snowboarding ?
Protecting your hands when you are snowboarding is paramount, and the only way to do this is with leather gloves. Nothing else will do the job!
There are a few options out there when choosing a good pair of leather snowboarding gloves being:
• Mitton Gloves or
• Snowboard Gloves
Choosing a pair is a personal choice and will be something you will have to think about before your snowboarding trip.
Below are some important questions answered regarding your new pair of gloves:
Do I Need Special Gloves For Snowboarding ?
You have probably heard that you need a particular pair of gloves for snowboarding. Most people either use Leather or Synthetic gloves when out in the snowfields.
Synthetic and leather gloves are the outer wear of the glove and are both waterproof.
Leather is a better choice due to the glove being wind resistant and are generally warmer to wear for snowboarding.
Are Leather mittens good for snowboarding?
Leather mittens are an alternative to normal snowboarding gloves as they are generally considered warmer to wear (as the four fingers are together in the glove instead of being separated like a normal glove).
You are also able to wear a mitten while snowboarding as you don't have to grip any poles or equipment, so a mitten is a good option for snowboarding.
Should Ski Gloves Be Tight Or Loose?
When purchasing a new pair of Ski or snowboarding gloves, you should buy a smaller size.

The purpose of this is to break them in ( this may take a few days to do so )
Once you break the gloves in, they will then become a perfect size for you.

If you buy a normal size to begin with, the gloves will stretch and will become loose and too large.