Louis Vuitton is one of the biggest and most famous designers of luxury goods, with their branded designs it is every women's dream to own one or two. The question is though what are they made from?
Here Is What Louis Vuitton Bags Are Made From:
Louis Vuitton bags are made from a variety of different leathers and materials. When manufactured the most popular are leather being cowhide. But Louis Vuitton does use exotic leathers too including Crocodile, Boa and Ostridge.
Louis Vuitton does use a range of non leather materials which include canvas and vinyl.
Below we will be discussing thoroughly the materials Louis Vuitton uses including leather and exotics. Thanks for reading.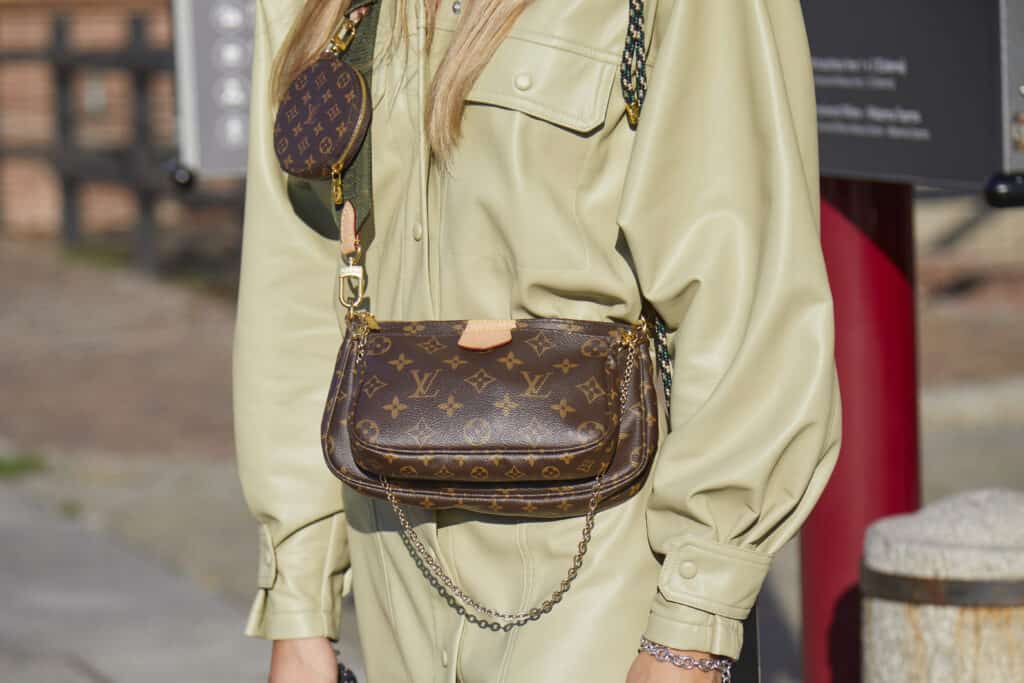 What is Louis Vuitton Bags Made From?
Louis Vuitton bags are made from a wide variety of materials. Most of them are leather, although many different patterns can be used. These bags have a straightforward, sleek design. There are no pockets, and it has a very soft feel. Louis Vuitton is known for the quality of its products, and you will get the best quality bags from them.
They have been around for over 100 years, so you know that they know what they are doing. It would help if you got a bag that has been made well so that it will last a long time. If you want something that will last you for years to come, you need to buy one of these bags.
You do not want to spend all your money on something that will only last you a few months or even less. Louis Vuitton bags are going to be expensive, though. Depending on the size and design, they can cost between two hundred and three thousand dollars.
If you do not plan to use this bag often, it is probably better to go with something cheaper instead of buying one of these bags every month or so. Louis Vuitton bags are made from various materials, from authentic Louis Vuitton monogram canvas to exotic leathers and fine jewelry. Here are what are Louis Vuitton bags made from:
• Gold: LV is one of the few brands that still offers gold hardware on their bags (Chanel also does this). It's called "gold patina" or "gold plated brass" because it's not solid gold – it's coated in gold paint or powder coating over brass which gives
• Leather: This is the most common non-canvas material used by Louis Vuitton, and you can find bags made from a variety of different leathers, including cowhide, goatskin, lambskin, and calfskin.
• The Canvas: Louis Vuitton's signature material is coated-canvas. The canvas is coated with PVC, and the LV monogram pattern is pressed into the fabric. This gives the bag a little bit of shine, but not enough to detract from the bag's overall look. The coating makes it difficult to scratch or damage the bag's surface.
• Monogram Canvas: The most popular style of Louis Vuitton bag is made from Monogram canvas. This is a coated cotton canvas that features the iconic LV monogram pattern printed all over it.
• The Metals: Louis Vuitton uses high-quality metals in many of its bags. Zippers and clasps are usually made from brass that has been plated with palladium.
Different Leathers
Louis Vuitton uses some of the most expensive materials to make their bags as a luxury brand. The most common material used for their bags is leather. Louis Vuitton leathers are made from carefully selected hides of the finest quality.
They use only the best cowhide leathers and the skins of young female lambs. Louis Vuitton's leathers have been carefully selected to hold up over time and keep their luster while still looking great.
Their leathers are also treated with chemicals that help protect them from stains and water ring marks, allowing them to stay looking new longer. Each piece of Louis Vuitton leather is then hand-painted by skilled artisans to create unique, one-of-a-kind pieces.
Louis Vuitton offers various types of leather, including patent leather, monogram canvas, and natural calfskin. Patent leather is made using a lacquer coating that gives it a shiny appearance. It is also highly durable and resistant to scratching or fading. Monogram canvas has a patterned look that makes it stand out from other types of bags but hasn't been around long enough to become a staple among Louis Vuitton bags. Natural calfskin has.
Animal Skin Leather (Cowhide)
It is no secret that the true luxury of Louis Vuitton's handbags and accessories comes from high-quality materials. Bags and accessories made from animal skin leather (cowhide) are precious, so they often come with a hefty price tag.
Louis Vuitton makes some of the most sought-after animal skin leather goods globally. The brand's products are made from cowhide, a type of natural leather made from the hide of a cow. The hairs are tanned to make them suitable for use as clothing or bags, and they are typically dyed black or brown to give them their distinctive colors.
In addition to being used in clothes, shoes, and purses, cowhide can also be used to make belts and wallets. The cowhide has been used in furniture manufacture since ancient times and musical instruments such as drums, guitars, and violins. It is also commonly made into book covers and travel cases for laptops, tablets, and phones.
Crocodile
Louis Vuitton is a renowned fashion brand around the world. It has been creating high-end leather goods and fashion accessories. The company has always used the best materials and some of the most skilled artisans to make its products. One of the most popular products from the brand is its bags.
These bags come in various shapes and sizes; each one is handmade by skilled artisans. While many different materials can be used to make a bag, crocodile skin is one of the most popular materials. Here are some of the reasons why:
• Crocodile skin is durable and long-lasting. This makes it ideal for a product that will be used for many years, such as a handbag or wallet.
• Crocodile skin looks great and is highly sought after by many consumers due to its beautiful appearance.
• The price of crocodile skin is very high, so it adds value to any product that it's used.
• It also shows prestige when you own something made from this material because it costs more than other materials such as cowhide or sheepskin.
Boa
Boa is one of the most common materials used in Louis Vuitton bags. It was first introduced in the 1960s and has been a regular feature. Boa is a fine leather of high quality, which benefits from natural graining, making it more durable than other materials. It can stand up to repeated wear without looking any worse for the wear.
This leather has a beautiful shine and looks the Louis Vuitton embossing process enhances that. Embossing makes the Boa leather more durable and more robust, ensuring that your Louis Vuitton bag will last for many years to come.
Boa leather is found in various colors, from classic black and brown to brighter hues like orange and red. In addition to being used on its own, Boa is sometimes combined with other fabrics to create unique effects. For example, Louis Vuitton's Damier Azur bags are made with Boa fabric that has been combined with Damier canvas.
Ostrich
Ostrich bags are crafted from the skin of ostrich, a large flightless bird found in parts of Africa, Australia, and New Zealand. It is estimated that the ostrich population stands at 1.2 million birds worldwide.
Ostrich is the most expensive of all leathers. There are many reasons why it is so valuable and why an ostrich bag costs more than a calfskin or lambskin bag, although they all start with the fact that it's tough to produce good-quality ostrich leather.
Ostrich has become rarer in recent years because there are very few animals that can be used to make leather – only about 10% of an ostrich can be used for this purpose since its hide is covered with tiny holes called follicles that must be cut out. There are several reasons for this:
• Ostrich leather has unique physical properties that make it highly sought after by designers and consumers alike: it's lightweight, durable, and flexible;
• It's also incredibly soft to the touch;
• Another reason why ostrich bags cost more than others is due to their natural beauty: each skin has an irregular pattern of dots and lines;
• Finally, it has a supple quality.
Non Leathers
Non-Leather Louis Vuitton Handbags are the most amazing we have ever seen. First of all, they look great, and there aren't any leather faux pas or leather quality issues.
You can almost always spot an authentic LV nonleather purse or bag (I will explain this in another prior post). They are very well made and reliable under all types of weather conditions. We feel confident carrying them, knowing they will not be affected by rain or snow.
Canvas
The canvas used in Louis Vuitton bags is a particular coated type of cotton, called taurillon, which is highly durable. The most common Canvas is Monogram Canvas, the classic and familiar pattern (see picture below). Monogram Canvas is made from the entire fabric treated with the same LV pattern.
Damier Canvas has the checkerboard pattern, and Ebene Canvas has a brown vertical stripe pattern. For Damier and Ebene Canvas, the stripes are first placed on a different material that is then attached to the body of the bag. The canvas comes in various colors and includes such designs as a monogram, Damier Azur, Damier ebene, and epi leather.
Vinyl
The term "Vinyl" can describe many different types of materials. For example, the vinyl used in automotive upholstery is entirely other than those used in high fashion handbags. For this reason, expert manufacturers are careful to choose the right type of vinyl for their specific application.
Louis Vuitton bags are made from PVC (polyvinyl chloride), a standard, strong, and flexible plastic often found in piping and medical equipment. Because of its strength and durability and its ability to be easily molded into any shape, PVC is often used in handbags and other accessories that must be durable yet maintain a certain level of flexibility.
While some vinyl can contain phthalates, a chemical often linked to endocrine disruption, Louis Vuitton has taken steps to ensure that its products are phthalate-free by using non-phthalate vinyl. This means their products are compliant with California's Proposition 65 and EU REACH standards.
Why Are Louis Vuitton Bags Made With One Piece Of Leather?
Louis Vuitton is the most counterfeited brand globally, and that's a problem. The company has dedicated a whole section of its website to teaching people how to spot fake products.
But Vuitton's most unusual strategy for fighting fakes might be what makes their bags so recognizable in the first place. Louis Vuitton bags are constructed with a single piece of leather. That means there are no seams on the handles or sides of the bag, just on the top and bottom (typically covered by some flap).
This is less expensive than using multiple pieces of leather, but it also makes it much more challenging to ensure all parts of the bag match in color, texture, and quality. Imagine trying to cut a long strip of leather out of an animal hide – you can only use so much before you get to one end or another, where it starts getting thinner.
So for a single strip this long, you can't get as many bags out of one side as you could if you used multiple pieces. And if your hides aren't exactly uniform in quality, then two strips can come from very different parts of the same hair.