Faux leather is an alternative to the original leather, and you can obtain it at an affordable cost.
Faux leather looks like genuine leather and what makes it outstanding is that animals will not have to undergo a brutal process in manufacturing the leather.
Primarily the faux leather materials are also very low maintenance products compared to the original leather. This type of leather does not fade, become stiff, or crack after an extended period of use.
You can purchase different colours of artificial leather.
Also, bags engineered with faux leather are outstanding. It is pretty straightforward to cut and craft faux leather, and the stitching process is relatively straightforward. Also, using artificial leather is the best to protect various animal rights.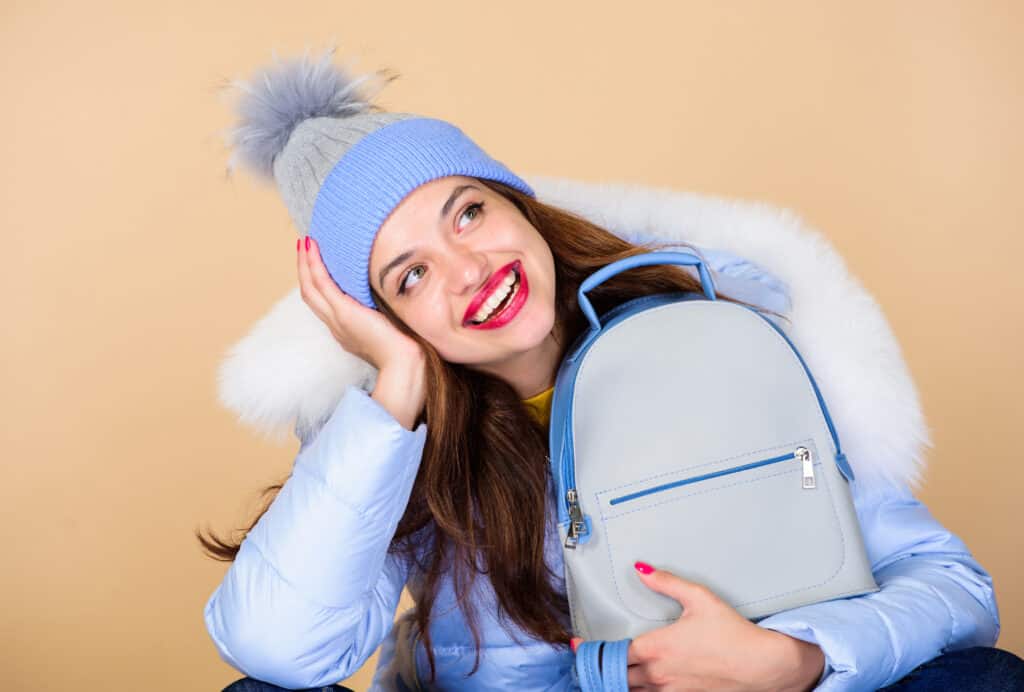 Are Faux Leather Bags Durable?
Faux leather is exceptionally durable if engineered with the right technology.
The leather bag can last for decades or years if you take care of it properly. The material can handle abrasive scratching making it the best material for use. The material is stylish and quite attractive and offers more benefits than natural leather.
How Long Does Faux Leather Handbag Last?
The artificial leather bags are lighter, softer, and exceptionally durable. This handbag is easy to wash and water-resistant.
Ideally, the bag can last for at least 3 to 5 years in pristine condition.
However, it is imperative to note that faux leather is not durable like natural leather. You can protect your artificial leather handbag by cleaning and protecting it to an extent.
In cleaning the fake leather handbag, use soap and warm water; also, ensure you incorporate a non-abrasive cloth to precisely clean the exterior of your handbag.
Also, finish the cleaning process by wiping with a soft cloth. Proper care ensures that you prevent your handbag from general wear and tear. Lastly, it is paramount to note that your faux leather handbag will last longer if you take proper care of it.
What is Better a Leather or Faux Leather Bag?
Genuine leather is an expensive and aesthetically appealing material.
This material is able to withstand the test of time and is a luxury material for your handbag.
On the other hand, faux leather is a popular material that is used to craft your bag. It is a more affordable alternative for your handbag. But which is the best material for your handbag?
Real Leather
Genuine leather is a very natural material that is engineered from animal skin. The surface of this material is not uniform and includes various blemishes and imperfections.
This material does not primarily feel smooth and has a rough consistency that makes it outstanding. The material is quite unique and natural material for your purse.
What makes artificial leather quite outstanding is the fact that it can endure various physical elements. It has a character and patina that makes this substance quite durable and valuable.
Thus the original handbag is durable and withstands various environmental factors adequately.
Faux Leather
The fake leather handbag is relatively uniform and is an aesthetically pleasing material.
The handbag has a smooth texture and is an even substance.
It is a durable material and what makes it outstanding is that it is an affordable option for you. However, it is imperative to note that the artificial leather handbag will wear out faster than genuine leather.
Most people prefer artificial leather as it is aesthetically appealing, durable, smooth, and in various colors. The material is the best if you want to buy a good handbag at a more affordable rate and one with outstanding colors and patterns.
Why Is Faux Leather Bad?
Faux leather is crafted with polyvinyl chloride, polyamide microfiber, or polyurethane.
What makes artificial leather bad is that it has potential health effects on your body. Primarily, artificial leather engineered with PVC can be pretty harmful to your health.
Also, artificial leather does not age very well. It is pretty prone to peeling or cracking after using it for a prolonged period.
It also loses elasticity, thus prone to tears and punctures. Therefore if you are looking for a more durable option that will stand the test of time, ensure that you purchase genuine leather handbags.
Do Designer Brands Use Faux Leather?
Yes, some designer brands use faux leather to design their products, such as shoes, handbags, furniture, and other products.
Most of these products are smooth, outstanding, and crafted with aesthetically appealing colours.
Additionally, the designer products crafted with faux leather are relatively affordable than those engineered with high-quality original leather.
What Are The Advantages Of Purchasing Faux Leather?
Economical– the faux leather handbag is quite affordable compared to the original leather.
Durability-the artificial leather handbag is quite durable and will last for a prolonged period and many years. The material can withstand some minor scratches and scrapes. However, it is imperative to note that handbags are more durable than artificial leather.
Low maintenance option-the artificial leather is easy to maintain. You will only need to wipe clean the bag with warm water and a smooth cloth. The leather does not retain moisture compared to natural leather.
Good quality-manufacturers are now incorporating new and modified grain, textures, and color to ensure that the visual appearance of the handbag is appealing.
Consistent appearance- the artificial leather provides a uniform look for your handbag. The exterior appears smooth and aesthetically appealing.
Fashion- artificial leather comes in various textures and patterns. Thus the handbag is quite beautiful and is the best in the market.
Key Takeaway
Artificial leather handbag is an appealing, aesthetically appealing, and comes in various designs. If you want a smooth textured handbag that is quite affordable, ensure you invest in the faux handbags.
You have the freedom to select different colours and patterns according to your taste and preference.
It is essential to ensure you maintain your handbag by adequately cleaning the exterior with warm soapy water.
There are other materials such as shoes, furniture, footwear, sports equipment, and clothing. Also, you can purchase designer items that are crafted with artificial leather and are pretty outstanding in the fashion industry.