Leather hats are great quality and very stylish addition to any wardrobe. With many styles produced including fedoras, wide brim fedoras, pork pies and flat caps.
Here Is How Leather Can Be Worn In The Sun:
Leather hats are hotter than other materials but can be bearable in the hotter weather depending on the person wearing the hat. In many countries including Australia leather is the choice of sun hat, as the leather absorbs the heat.
In this article we will discuss leather in the sun, how to care for the hat and whether it is suitable for you.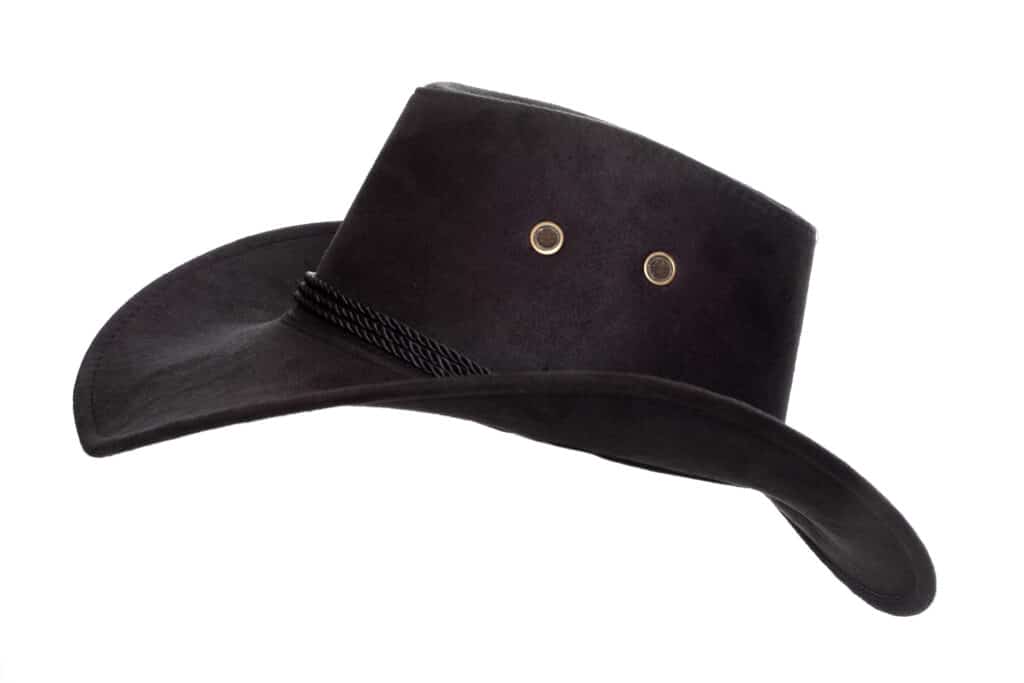 Can You Wear A Leather Hat In Summer?
Leather hats are wearable in the sun. As there are hundreds of brands out there that produce leather hats they must be worn by people or they wouldn't produce them.
The question is can you wear a leather hat? If you can tolerate the hotter weather without feeling the heat too much then I would say there wouldn't be a problem with wearing a leather hat.
In Australia it is very common for Aussie's to wear heavier hats being leather or felt in the harsh climate there, so if it can be worn there it can we worn anywhere!
The question is can you wear a leather hat? If you can tolerate the hotter weather without feeling the heat too much then I would say there wouldn't be a problem with wearing a leather hat.
If you are a person that really feels the heat than perhaps a leather hat is not the best option for you, and you should look for a straw or fur felt hat instead.
On the other hand, leather is a long lasting material that will give you that sun protection you are looking for. In these days with people getting skin cancer from being out in the sun, it is extremely important to look after your skin.
Wearing a leather hat will protect you out in the weather from the harsh rays of the sun and will look stylish too.
What Will The Sun Do To My Leather Hat?
Leather used to be on an animal which produced oils to keep it soft and supple.
When leather is produced and then made into garments (e.g a hat), over time it no longer has the oils produced.
So when a leather hat is worn in the sun it will dry the leather out, which can cause fading within the leather.
To fix this problem you will need to find a good beeswax leather polish which will then put the oils back into the leather hat and will also seal and waterproof the leather.
This will also bring the life back into the colour of the leather e.g if your hat when you purchased it was a dark brown and then faded to a light brown colour the beeswax polish will bring it back to the original colour.
If you are wearing your hat everyday in the sun we would recommend polishing the hat every few weeks.
Is It Too Hot To Wear A Leather Hat?
Leather is a heavier fabric, and some people because of the thickness and heaviness of the hat find it too hot for the sun. But again this depends on the person wearing the hat!
If feeling hot is a complete concern for you or you excessively sweat in the full range of the sun than purchasing a complete leather hat would not be a good idea.
For people that don't notice or sense the hotter weather as much than a leather hat is great for protection.
If you go look online at Jacaru brand of leather hats, they now have a leather hat with a partial mesh crown, giving you the sturdiness of the leather brim but the lightness of the mesh. This style would be further suitable for someone that experiences heat issues.
The Jacaru also has eyelets that lets in air into the crown making it cooler in summer to wear.
What Recommended Brands Are Good Leather Hats For Summer?
There are many leather hat brands on the market right now. Below is a complete list of the most famous brands on the market today:
Jacaru:
Is an Australian Made company that specialises in Leather Hats. This includes Kangaroo Leather, Traditional Leather. This company also works with leather hats for children. It also specialises in leather hats with mesh (for cooling of your head).
Barmah:
Is an Australian Made company that works with Leather range of Hats. They have a squashy hat which you can fold up in a bag and springs back to life (not wrecking the crown or shape).
This leather hat is excellent for hiking or travelling. Barmah also works with crocodile leather and kangaroo leather styles also.
Thomas Cook:
Is a Australian company that stocks a range of hats including leather hats. Mostly working with pigskin leather.