Leather jackets have been worn for 50-60 years by men, including celebrities e.g James Dean to todays celebrities including Ryan Gosling. This is because leather jackets are attractive and something you can wear on a variety of occasions.
Here Is How A Leather Jacket Will Help Attract Women:
A leather jacket will show a women that you have attitude, are a bit of a bad boy, are confident in yourself, tough and a bit edgy. A woman wants a man to be a "real man" and knows who he is and what he wants.
Throughout this article we will discuss the 11 secret messages how wearing and owning a leather jacket will attract women, with some great hints and tips included.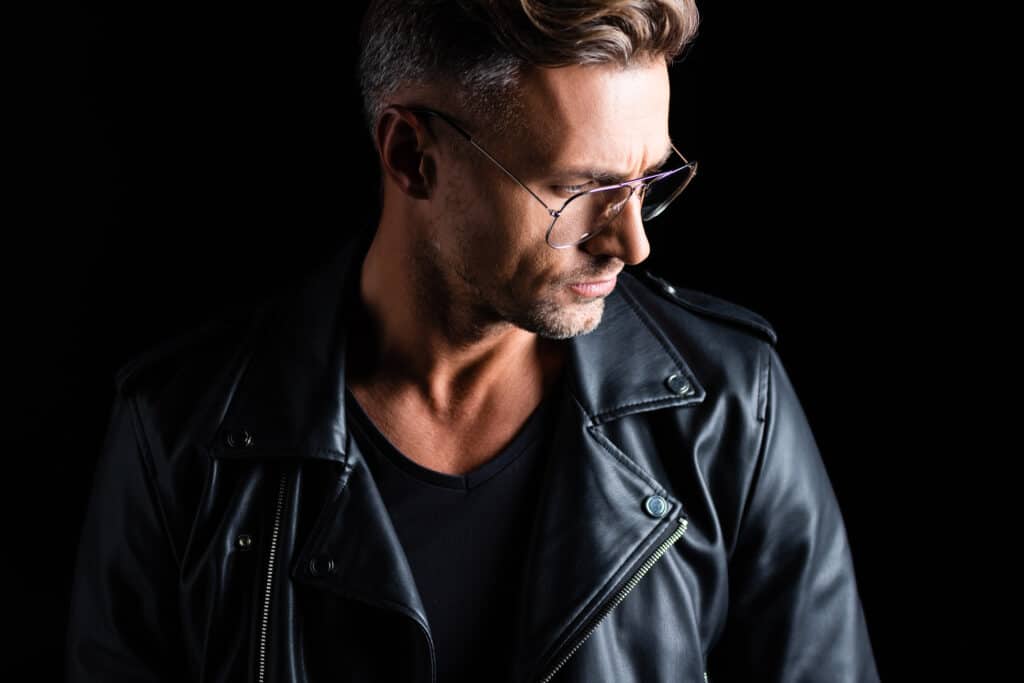 11 Messages How A Leather Jacket Will Attract A Women
Attitude
The first thing that you notice when you see a man in a leather jacket is their attitude. He has this way about him that makes a woman know he is the one in control as he knows what he wants and goes after it with determination.
A leather jacket stands out with it's coolness and versatility, and if you are wanting to get noticed this is a great way as you will not be conforming to what every other guy is doing.
Confident
Most girls really love the look of a leather jacket on a guy. There is something about a guy dressed up in a leather jacket that makes him look really attractive.
When you wear that leather jacket on a date or out to meet someone a girl is going to know you are comfortable with yourself, and will instantly know you are real, also that you don't take life too seriously.
Bad Boy
When you think of a "Bad Boy" you think of a tough guy that rides a motorcycle. This guy usually wears leather and is not someone that you want to mess with. Women are attracted to this look as no one likes a guy that is soft or weak.
All girls like the thought of having a man protecting them, and the image of a leather jacket is a positive to them as they imagine you being tough, rebellious and edgy. Always having their back at all times, this is important to a women knowing they can rely on their partner or potential future partner.
Casual
Leather jackets can be very casual, so this means you can wear this from going for a walk to a dinner date. If you are wanting to look casual a leather jacket is great with a tee shirt underneath.
This casual look is good if you don't want to look like you are trying too hard. Women don't like men who come across desperate, so this would be good if you are in a general setting.
Cool
When you think of movie stars who look cool that wear leather jackets you think of Chris Evans or Ryan Gosling, both of these actors women swoon over.
When you look at Chris Evans or Ryan Gosling wear a leather jacket it symbolises toughness but at the same time is cool and fashionable. If you want to look the same (having the cool image) make sure you choose a correct size for you, a jacket needs to be correctly fitted to your body shape and you should get advice from the shop you purchase the jacket from.
Edgy
Leather jackets are a symbol of edginess and this is why when you wear one it grabs your attention. What do you think is going to attract a girl more wearing a woollen vest or a black leather jacket?
When a girl sees a leather jacket she will see a powerful guy where as seeing a guy wearing a woollen vest on first impressions will be boring and dull.
If you want to to have that edgy look wear a leather jacket, as this is what rock stars wear and is a important part of their clothing routines.
Tough:
Leather jackets were once reserved for bikers, who were considered dangerous and wild, but as time marched on, many guys started to see a jacket an attractive fashion alternative to fabric jackets that inundated the market at the time.
If you want to come across as a little bit tough then wearing a leather jacket will do just that. This is why many celebrities want to add a rugged appeal to their look, and why it is more common now to see your every day guy wearing this type of jacket.
Masculine:
The leather jacket is a classic and beautiful piece of clothing that can be used at any occasion. If you are wearing a leather jacket it shows that you are masculine, attractive and it makes you look very stylish.
Of course there are different designs of jackets out there, with some being more fitted than others. To see which type of jacket suits you best, it is best to try a few on, to see what style suits you the best e.g blazer to bomber to biker type. All of these styles look masculine and it is personal preference to work out which is best for you.
Wearing a leather jacket will make you look strong, bold, confident and most importantly- masculine. This masculinity is almost irresistible to women as long as you choose the right fit and type of leather jacket.
Smart
Wearing a leather jacket can look really smart if paired with the correct pieces of clothing. A lady always appreciates the effort that a guy makes in his appearance, so pairing a leather jacket with other pieces of clothing will make you look very fashionable.
If you are wanting a casual smart look go with a tee shirt, leather jacket and jeans. If you are wanting to be slightly dressier than add a shirt or linen shirt instead of the tee shirt. If you think of the clothing as well of the jacket you will definitely dress to impress.
Trendy
Different trends come and go, but wearing a leather jacket is a timeless piece. It is something you can buy today and still wear in 10 years from now.
Today wearing a leather jacket with a pair of skinny jeans and a tee shirt is trending now which is good, this may not be the case in the future. In 10 years time it may be a leather jacket with matching leather pants be the trend.
Timeless:
If you go back in time into a era of Marlon Brando and James Dean, these were celebrity idols of the time, and both men wore leather jackets, and girls loved it.
The timeless piece of the leather jacket was popular 50-60 years ago and nothing really has changed. If you are looking for a timeless wardrobe piece a leather jacket is something you should think about obtaining. To give you a sense of swagger that has contributed to the attractiveness of these past celebrities.