Saddle soap is a excellent to clean and condition leather, but it does have it's pros and cons which you should know about.
Here Are The Pros To Using Saddle Soap On Leather:
Pros:
Saddle Soap Conditions, Moisturisers, softens and Stops the leather from drying out. It also has the ability to remove stains and other polishes from the leather too.
Cons:
Saddle Soap can darken the leather and isn't able to waterproof the leather.
We will be discussing the above pros and cons in further detail, so please keep reading if you want to know more about Saddle soap and how it can benefit your leather piece.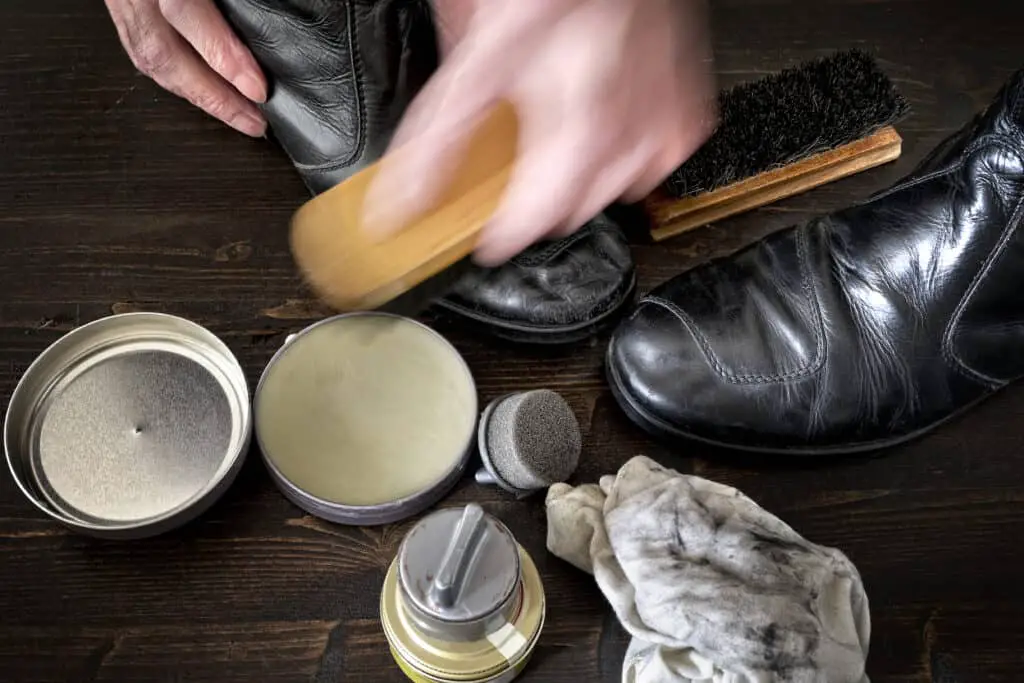 Pros Of Using Saddle Soap On Leather
Saddle Soap Conditions Leather
Saddle soap is an excellent cleaning product to use on leather because it does so much more than just clean. One of its best properties is its conditioning property because it's very important to condition leather and keep it looking its absolute best.
Leather is prone to trapping dirt, grease and dust in its pores, so conditioning it with a product like saddle soap will clear the pores out and stop any mould or other stains from developing.
Conditioning is the best way to care for leather without worrying about rubbing a product deep into its pores. The fibres of your leather will benefit greatly from the lubrication offered by conditioning because it will prevent friction and possible damage from occurring between them.
Saddle soap is a multi-purpose product, but it is used primarily as a leather conditioner by lots of different people on a variety of leather products.
If you are using saddle soap as a conditioner, you should apply it approximately once a month, though some products might require more frequent conditioning. Using saddle soap to condition leather once a month will work to keep your leather looking smooth and shiny and have it lasting longer.
Saddle Soap Moisturises Leather
Saddle soap also contains beeswax, which works to moisturise leather and keep it as smooth and soft as it can be. Moisturising leather is just like moisturising your skin: it smooths it out, makes it look nicer and injects it with some necessary moisture to keep it in the best condition.
Like with conditioning, moisturising leather helps to lengthen a leather product's lifespan and improves its appearance almost immediately after the first application.
Beeswax is one of the best natural moisturisers, which makes it perfect for use on leather. Saddle soap is very kind to leather and the beeswax works well to permeate the pores and moisturise leather from the inside out.
All you need to do is add a little of the product to a soft cloth and massage it into the leather, then watch as your leather becomes smoother and softer.
Saddle Soap Prevents Leather From Drying Out
One of the biggest problem that lots of people complain of with leather is that the material is prone to drying out, which can lead to it peeling or cracking.
Luckily, saddle soap helps to revitalise leather and prevent it from drying out, so long as you apply it on a regular basis. Just a little of the product will inject some moisture into the leather and keep it as supple as possible.
If you notice any very dry or rough patches on your leather, apply a larger amount of saddle soap to the area and carry on applying it on a more regular basis until those patches do soften up.
Usually, a monthly application of saddle soap should be enough to stop leather getting rough enough to dry out, though this can vary depending on the condition of the product. You need to keep leather conditioned and moisturised to prevent it drying out, so the beeswax is one of the most valuable ingredients.
Saddle Soap Softens Leather
One of saddle soap's main ingredients is lanolin, which has excellent softening properties.
Softening your leather with saddle soap is one of the easiest ways to stop it from becoming cracked or more easily scratched because softer and more supple leather resists damage in ways that dry, hard leather cannot. Softer leather also just looks more attractive and feels a lot nicer to touch.
If you own products like a leather handbag or a leather wallet then you'll want the material to be perfectly soft and buttery to the touch.
This not only makes leather look nicer, but also makes leather items easier to use, especially if you are going to be storing things inside them. For items like leather shoes and boots, saddle soap will clean and protect them without softening the harder leather to such a degree that it becomes damageable.
Saddle Soap Removes Polish From Leather
Though it has so many other properties, saddle soap is primarily a soap, which makes it the perfect product to use to remove polish from leather. Accidents happen, so if you do end up with some polish spilled onto your leather, or if you've used the wrong colour polish, you don't need to panic!
Saddle soap is actually a common ingredient that can be used in shoe polish, but it also works as a cleaner for removing any excess polish from the material.
You don't need to use a large amount of saddle soap when cleaning off polish because a little will go a long way.
Simply work a cloth with some saddle soap on it across the surface of the leather and you should notice the polish starting to lift. Because of its polish-removing properties, saddle soap is particularly popular for use on leather shoes.
Saddle Soap Removes Stains From Leather
As a surface cleaner, saddle soap will easily remove any stains or scuffs from your leather products.
You should start by brushing off any excess dirt or muck, then apply the saddle soap and rub it firmly into the stains to really help it work them out. If you can work your saddle soap into a lather then it will be even more effective because you'll be able to properly soap up your leather and give it an overall clean.
Always remember to wipe off the rest of the lather with a damp (not dripping wet!) sponge after you've cleaned the stains from your leather because this will prevent it from drying on the material.
The more that you really work the lather into a leather product, the more stains it will remove. It may even end up releasing more grime and dirt from the leather's pores than you would have thought could be in them!
The mild soap that is included in saddle soap is more than enough to clean any stains off effectively. It is an alkaline soft soap too, so you don't need to worry about a very acidic pH penetrating your leather. Saddle soap will do its job to remove stains and clean the general dirt accumulated on leather and then leave the material improved for future use.
Saddle Soap Protects Leather
With some cleaning products, you may find that their work ends the second you stop using them; however, this is not the case with saddle soap.
Though it only contains a mild soap for cleaning, the beeswax and lanolin are two other ingredients that continue to work wonders once the application is over. As well as moisturising and conditioning your leather, they work to form a protective seal on the surface of your leather, protecting it from any potential future staining, scuffing, cracking and peeling.
In addition to using saddle soap, you should store your leather in a cool, dry place to avoid any condensation causing mould on it.
You shouldn't need to apply any other products if you are using saddle soap, and it is actually advisable that you don't because using too many products on your leather at the same time might do more harm than good. Saddle soap is an all-round product with lots of different properties, so it really is all you need!
Cons of Using Saddle Soap on Leather
Saddle Soap Doesn't Waterproof Leather
Several people make the mistake of believing that all leather care products work to waterproof the material, but this is not the case.
Though it can do many things for your leather, saddle soap will not waterproof it. If you do want to waterproof your leather, you'll need to seek out an additional product and just stick to using saddle soap for cleaning and care.
It is not necessarily a disadvantage that saddle soap doesn't waterproof leather because it does so much else to care for leather, though waterproofing is a very important quality for some people.
A lot of the time, waterproofing products don't care for leather the way that saddle soap does, so an additional waterproofing product will be beneficial and won't mean that you need to stop using saddle soap.
Saddle Soap Darkens Leather
One of the reasons that saddle soap is used in some shoe polishes is because it works to darken leather as well as care for it.
The reason for this is that saddle soap has a very alkaline pH, which, over time, can start to make leather look darker as it changes the material's pH to become more alkaline. If you only have light leather products, you might not want to use saddle soap because it could work to darken your leather over time.
It must be said that saddle soap will not immediately turn your leather darker, so you will be able to use it a fair few times before any changes are actually noticeable.
One of the best things about this product is that you really do only need to use a small amount every month to completely cover your leather. If you do have very light leather products then saddle soap may not be worth the risk at all, though it has far more pros than cons when it comes to its properties.